Application Fields:
Rubble Production
Certification:
RoHS, UR, ISO, UL, CE
Refrigerant:
R22/R407c/R134A
Power Consumption:
12.5 Kw
Refrigeration Capacity:
34.9kw
Transport Package:
Plywood Case
Specification:
1550X800X1900mm
8HP to 30HP Industry Air Cooled Heat Pump for Rubber Production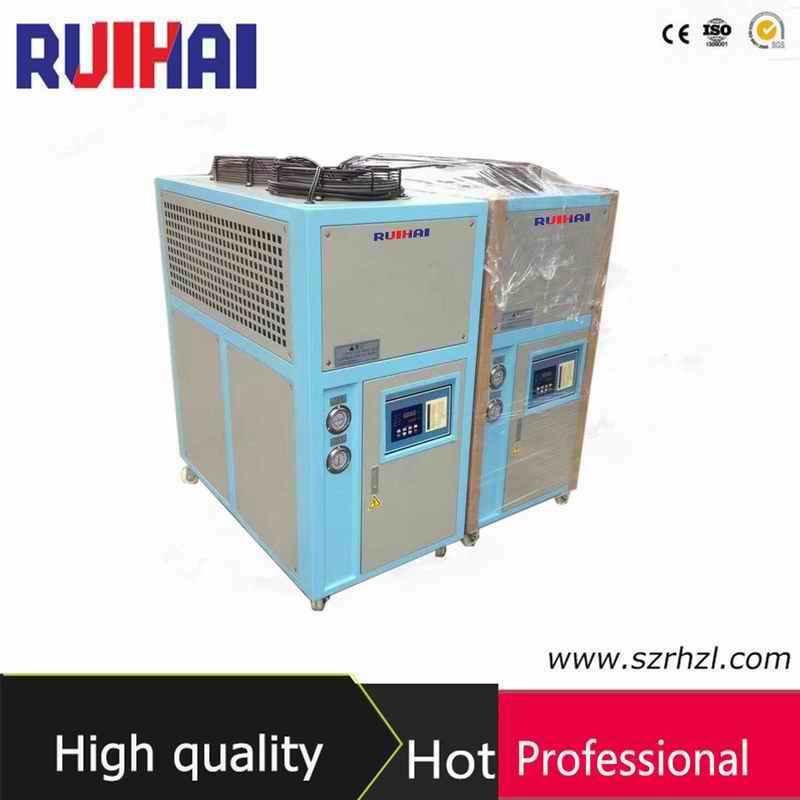 Main Features
1. Suitable for the building with 200-10000m2.
2. Air conditioner system with cold and heat source unity, no boiler room needed, more suitable for simultaneous heating and cooling needs of users.
3. Install it outdoor, do not need refrigerator room, eliminating the need for refrigeration room, saving construction investment.
4. The first energy utilization rate is up to 90%, saving energy consumption, greatly reducing the cost of the user.
5. No cooling tower needed, at the same time, eliminating the need of water pump and pipe system, reducing the cost of extra equipment.
6. No cooling water system power consumption, no cooling water loss, more suitable for water shortage areas.

Technical Parameters:
Model No.
RHP
-008A
RHP
-010A
RHP
-015A
RHP
-020A
RHP
-025A
RHP
-030A
Characteristics
Nominal refrigeration capacity(Kcal/h)
16000
20000
30000
40000
50000
60000
Nominal heating capacity (Kw)
23
28.8
43.1
57.5
71.9
86.3
Capacity control (%)
100, 0
100, 50, 0
Power supply
3N - 50HZ - 380V
Power consumption (Kw)
7.1
8.2
12.5
16.3
19
26
Refrigerant
Type
Standard R-22 / Eco-friendly R134a or R407c
Vol (Kg)
4
5
7.5
10
12.5
15
Control
Thermostatic Expansion Valve
Refrigeration system
Compressor
Type
Scroll Type / Piston Type
Qty
1
2
Input(kw)
7.91
8.94
4.66+8.94
8.94*2
10.1*2
14.1*2
Condenser
Type
Finned Type
Windward Area (m2)
0.96
1.2
1.8
2.4
3
3.6
Evaporator
Type
GDD-008
GDD-010
GDD-015
GDD-020
GDD-025
GDD-030
Pipe Dia. (PT)
1-1/2"
1-1/2"
2"
2"
2-1/2"
2-1/2"
Resistance ( Kpa)
30
32
34
34
32
35
Cooling System
Fan
Type
Low Noise Screw Axis-flow
Circulating Flow (m3/h)
8000
10000
15000
19000
23000
28000
Motor
Type
Bearing Drive
Input (Kw)
0.42
0.65
1.1
0.65*2
1.0*2
1.1*2
Protection Devices
high/low pressure switch, freeze protection device, overload protection device, coil overheat protector, temperature automatic protective switch
Size
W (mm)
1550
1550
1550
1900
2600
2600
D (mm)
800
800
800
900
900
1200
H (mm)
1900
1900
1900
2000
2000
2300
Weight (Kg)
420
450
480
550
650
730
Work Condition:
1. The above data is based on ice water inlet temp 12degree, outlet temp 7degree, cooling water head loss under 6.6M, ambient temperature 35CDB 31CWB.
2. No prior notice if any modified about above specification.
3. Please always confirm before you order.
4. If the frequency of power supply is 60HZ, all the data above should be dived by 0.83.
Structure Drawing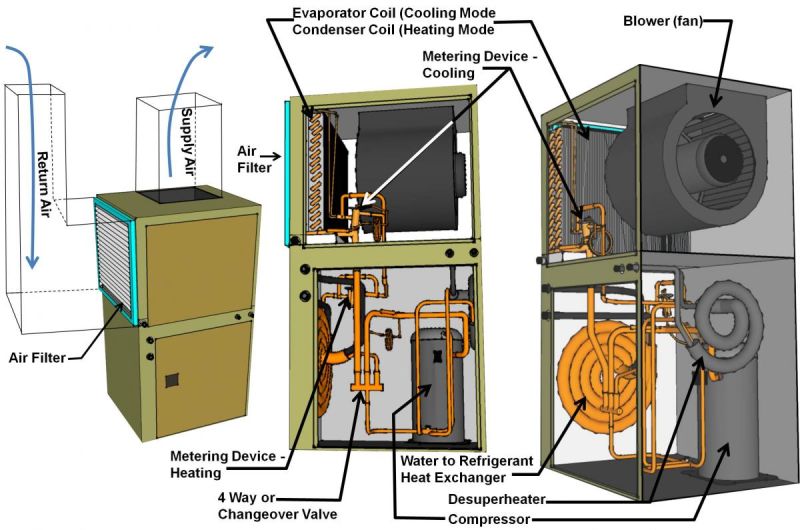 Work Principle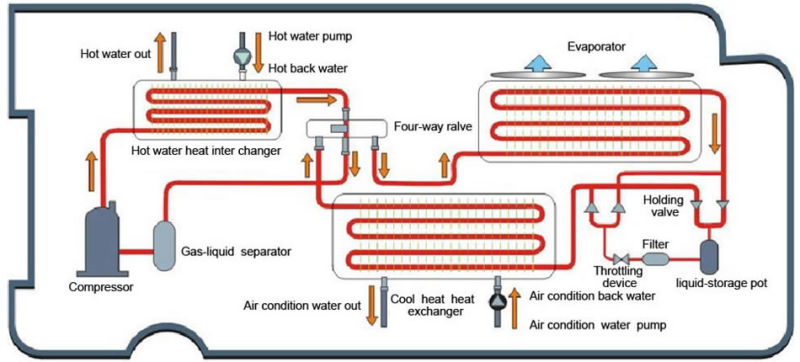 Applications
Be widely used in Chemical Plant, Foam Factory, Pack PE Foam Plant, Rubber Plant, Central Air-Conditioning, Hotel, Restaurant and etc.

Package & Shipping

Use standard export plywood case with forklift truck feet, easy to load and unload
5-7 days to finish the production after receiving the deposit
Shipping by LCL or FCL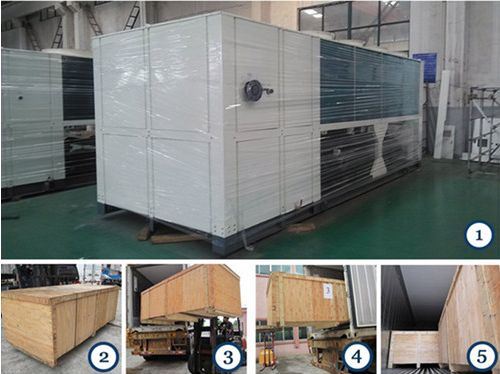 After-sales service:
12 months quality warranty since the date of delivery.
Free of charge to replace new chillersif quality problems.
Cost price to buy extra parts with Chillers from Ruihai if needed.
24 hours online service by e-mail, WhatsApp, Skype or Telephone Calling.
Installation Video to help installation even send engineer to customer's jobsite if needed.
Necessary info to Quote
1.What is your cooling capacity?_____    Kcal/hr  or   _____KW?
2. What's your power supply?  
For example: 220V-50Hz-1N (N=Phase )
3.What refrigerant type do you require?
R22 or R134a or R407c?
4. What's your ambient temperature? And what is your chiller inlet and outlet water temperature?
5. Which industry do you use the chiller in?
 
It is applied to cotton yarn, woolen yarn, acrylic yarn and other blended yarns.
Features:
1. The machine is a double sides and single layer with convenient operation, reasonable transmission, compact construction and attractive appearance;
2. The perdurable stability of high quality spindle at the high-speed operation;
3. Two-step drive device make the force-enduring reasonable and the range of false twisting more wider;
4. The winding tension can be adjusted on the pre-take-up roller, therefore, it is also applied to winding of loose dyeing;
5. Pedal-braking system is more easy to operate, and the longevity of apron belt and spindle will prolong at the same time;
6. The bobbin bank will lift automatically when winding up and end breaking which can avoid the abrasion of fiber.
Short Fiber Two-for-one Twisting Machine
Short Fiber Two-For-One Twisting Machine,Short Fiber Two-For-One Twister,Short Fiber Twisting Machine,Staple Fiber Twister
ZHEJIANG KAICHENG INTELLIGENT MACHINERY CO.,LTD , https://www.kaichengtex.com